Hello David,
We are currently sitting on the ground in Pago Pago, American Samoa
waiting for slightly favorable winds to launch for Hawaii.  Once in
Hawaii, we plan to spend 3 days and then depart for Salinas (Primary) or
Monteray (Secondary in case of weather or other problems at Salinas).  We
plan to stay only over night there and launch for Indianapolis early next
morning…..  I will give you better dates when we are in Honolulu.
Thanks.
…Babar.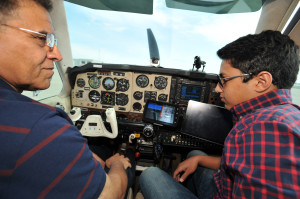 I was doing what PR people often do – asking impossible questions and trying to plan ahead when nobody was quite sure what the plans were. In this case, I was messaging back and forth with Babar Suleman as I had for much of the past few months, garnering media attention for the round the world in 30 days journey he was planning with his 17-year-old son Haris, then keeping track of his stops and now preparing for a grand reception on their triumphant return to the United States.
I wanted to know what time he expected to arrive at Salinas Airport in California so I could get the waiting cameras and reporters assembled in time. Of course, while Babar and Haris were still in America Samoa and had to fly first to Hawaii and then across the Pacific on the longest leg of the trip, it was impossible for him to tell me. But he treated my queries with the graciousness he had shown from the start, always prepared with his son to do whatever had to be done to best promote the cause he was doing this for and for which he cared for deeply, The Citizens Foundation.
They had, after all, set themselves an ambitious target. They wanted to raise $1 million to help TCF build more schools in Pakistan's most underprivileged urban slums and rural areas. Right from the beginning, Babar was adamant that he wanted as much publicity as possible to bring the cause to the notice of as many people as possible. He valued his own education highly and not only had he raised Haris and his siblings to feel the same, they also shared the drive to help others less fortunate.
Before they took off from the airport in Greenwood, Indiana, close to their home in Plainfield, the trip had already got a lot of attention from media outlets across the globe. Each stop along the way brought even more. There were huge welcomes in Karachi and Lahore and each landing raised the profile of their "noble" cause even higher. NBC in the US carried an article showing how to follow the flight path and offering more insight into TCF.
Then came last Wednesday's shocking news. After our email exchange I had assumed Babar and Haris were in Hawaii, readying themselves for their last, long flight home. The awful reality was that just a few minutes after writing the message above their small Beechcraft aircraft plunged into the Pacific just off the coast of Pago Pago. Haris, that bold adventurer who had packed more into those past three weeks than most people have in a lifetime, was found still strapped in his seat. The search for Babar continues. From preparing a media celebration we were suddenly thrust into handling calls and questions from around the world about the tragic end to a great adventure that nobody had countenanced.
In the place of the garlands and the congratulations were grief and heartbreak. But in lives lived bravely, Babar and Haris ensured their deaths were not in vain. The blanket coverage of the crash brought a spotlight on the work of TCF that even Babar couldn't have dreamed of. As a direct result, hundreds and maybe thousands of Pakistani boys and girls will get the education he wanted for them. For that, his family – and everyone associated with Babar and Haris – should feel justly proud.